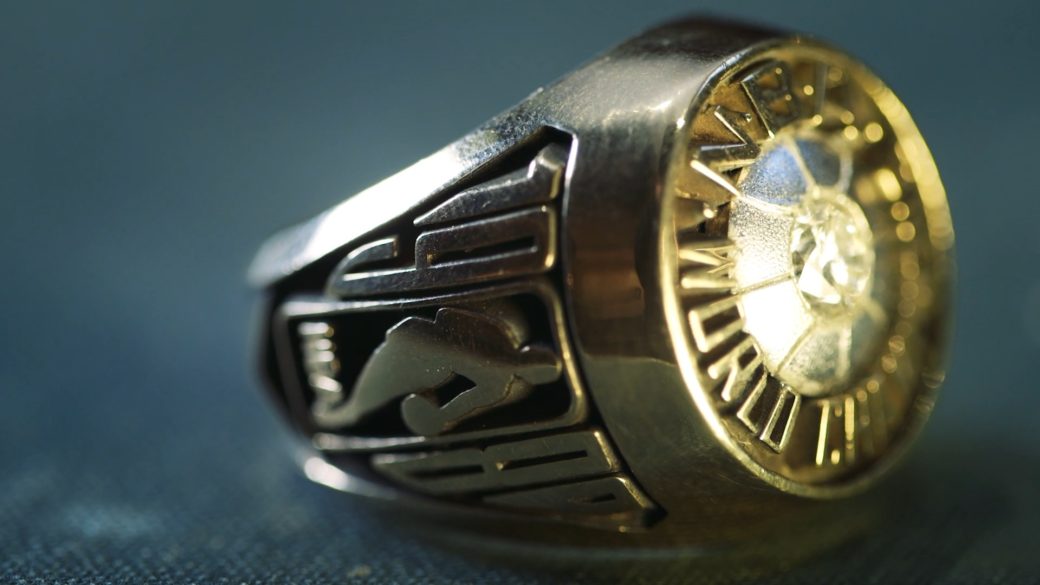 opens in a new window

VIEW AUCTION
opens in a new windowBid Now – 1987-88 Kareem Abdul-Jabbar Game Used, Signed LA Lakers Home Jersey & Shorts
opens in a new windowBid Now – 1985 Kareem Abdul-Jabbar Los Angeles Lakers NBA Championship Ring (Finals MVP)
opens in a new windowBid Now – 1988 Kareem Abdul-Jabbar Los Angeles Lakers NBA Championship Ring
opens in a new windowBid Now – 1980 Kareem Abdul-Jabbar Los Angeles Lakers NBA Championship Ring
[x_button shape="square" size="large" float="none" href="https://goldinauctions.com/Category/Kareem_Abdul_Jabbar_Collection-219.html" title="VIEW AUCTION" target="blank" info="none" info_place="top" info_trigger="hover"]VIEW AUCTION[/x_button]
Whenever a famous athlete announces they are putting up a treasure trove of their sports memorabilia for auction, fans usually think the worst. What kind of Dickensian hard times have befallen our beloved hero that they are forced to part with the bejeweled rings, shiny trophies, and other glittery flotsam that has drafted in the wake of their rise to glory. The spoils of a lifetime of hard work,
intense discipline, and chronic injuries. "Oh, how the mighty have fallen," the fans will wail with some mixture of sadness and the knowing nod of inevitability. "Well, it happens to the best of 'em." They aren't wrong. There is a long list of athletes who have sold their prized memorabilia in order to keep the debt collectors at bay. Fortunately, that's not the case for me.
Although I had a well-publicized setback many years ago, I was able to find the right help when I teamed up with Deborah Morales at Iconomy to help me in my post-career life. Through her Lifetime Legacy Planning, she was able to put me on a solid financial path that allowed me to pursue my passions for writing and collecting. Such planning can be the difference between a post-career of fulfilling activities or a post-career of scrambling after every meager payday.
Why then am I auctioning off my sports memorabilia? I've been a collector most of my life. When I was in high school and broke, I collected books that I loved: The Adventures of Sherlock Holmes, The Three Musketeers, The Count of Monte Cristo, and all the other adventure stories that made me envision an exciting life beyond the confines of my New York City housing project. That's basically what any collector hopes to achieve, regardless of what they are collecting: a window into an exotic world that is different than their own. Whether it's baseball cards, Barbie dolls, or fancy watches, each item in the collection comes with a story, and that story is more valuable to the collector than the item itself.
opens in a new windowBid Now – 1971 NBA All-Star Game Ring Presented To Lew Alcindor
For example, a rare stamp from British Guiana just sold at auction for $9.5 million, making it the most expensive stamp in the world. The stamp was issued in 1856 and discovered in the collection of a 12-year-old boy in 1873. That's a story right there. But it gets better. In 1980, it was purchased for only $935,000 by John E. du Pont, the heir to the Du Pont chemical fortune. Why did it sell for ten times the purchase price a short 38 years later? Because it has a story: This is the same Du Pont who was convicted in 1997 of murdering Olympic wrestler David Schultz, events portrayed in the movie Foxcatcher starring Steve Carrell.
As many people know, I'm something of a history buff, having studied history most my life and having written several history books about World War II, the Harlem Renaissance, and overlooked African-American inventors. So, when my success in basketball enabled me to be able to afford to collect more expensive items, I chose items that reflected a rich cultural history. Over the past 50 years, I have collected rugs from the Middle East, guns and items from the American Old West, and coins from around the world. Each item gave me a deeper understanding of the history of the place and era it came from. Owning it made me feel like I was part of that history.
opens in a new windowBid Now – 1985 Kareem Abdul-Jabbar Game Used & Signed All-Star Game West Conf – Jersey & Shorts
My sports memorabilia also have a history. My history. My life. And, oddly, since my life is still happening and ever-evolving, I am less personally attached to those items than I am to my desire to create new history for myself—and futures for others. Much of the proceeds from my auction will go to support my charity, the Skyhook Foundation, whose mission is to "give kids a shot that can't be blocked." We do this by sending children from economically challenged schools to five days in the Angeles National Forest to experience the wonders of nature and learn the basics about science, technology, and engineering. Camp Skyhook is an immersive hands-on experience that takes kids out of school for 5 days and 4 nights. They go from auditory learning to utilizing all of their senses in the great outdoors. Our hope is not just to get them out of the city to commune with the outdoors, but to stimulate an interest in the sciences that might lead them to fulfilling careers.
So, when it comes to choosing between storing a championship ring or trophy in a room, or providing kids with an opportunity to change their lives, the choice is pretty simple. Sell it all. Looking back on what I have done with my life, instead of gazing at the sparkle of jewels or gold plating celebrating something I did a long time ago, I'd rather look into the delighted face of a child holding their first caterpillar and think about what I might be doing for their future. That's a history that has no price. Finally, having worked with Ken Goldin in the past, and seen the track record of success of Goldin Auctions, I have no doubt the auction will be successful and many collectors throughout the World will be adding prized possessions to their collections.
opens in a new windowBid Now – 1988 Kareem Abdul-Jabbar Game Used All-Star Game West Conf Uniform – Jersey & Shorts
[x_button shape="square" size="large" float="none" href="https://goldinauctions.com/Category/Kareem_Abdul_Jabbar_Collection-219.html" title="VIEW AUCTION" target="blank" info="none" info_place="top" info_trigger="hover"]VIEW AUCTION[/x_button]