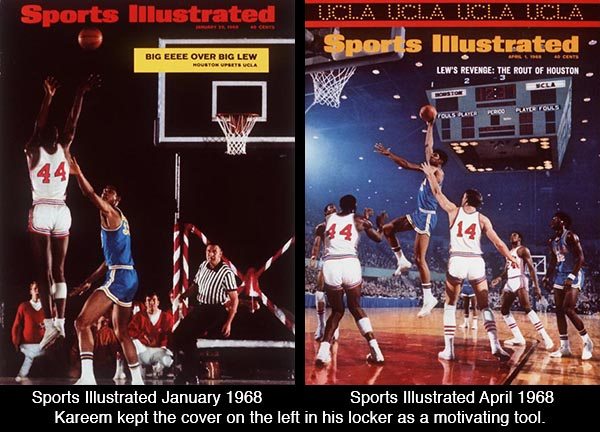 Q: What are your fondest memories of the NCAA basketball tournament?
KAJ: My fondest memory of the NCAA Tourney was our victory over Houston in 1968. They had beaten us earlier in the season and were considered at tourney time to be the #1 team in college ball. After we lost to Houston in February during the regular season all of the sports writers picked Houston as the number one team. I used the fact that the sports writers had abandoned UCLA as a motivation for preparing for a possible rematch agains the University of Houston in the NCAA Tournament. As luck would have it we got to play them in the semi finals of the Final Four and it ended up being the most significant victory of my college career.
Q: What were the differences between the 3 National Championship teams you played on at UCLA?
KAJ: I think that my team matured every year we played. By my senior year we had a mature and seasoned team that knew how to win.
Q: Was your game helped by not playing competitively during your freshman year at UCLA?
KAJ: I played competitively my freshman year on the freshman team. We played against other freshman teams and junior colleges. During my freshman year in 1965 we played an exhibition game against the UCLA Varsity team and won 75-60. They were the defending NCAA Champs so it was a big deal on campus.
Q: Do you think there's a reason we haven't seen many dominant centers in the NCAA tournament in recent years? Are big men coming out too early with the promise of being a top pick in the draft to stay and control the college game?
KAJ: All players today want to play the game regardless of their size. The skills that need to be taught to big men aren't being taught to those players who have the potential of being pivot players until they are in high school or even college.
Q: Do you watch the NCAA Tournament? Do you think it's easier for a "cinderella" team to win now as compared to when you played?
KAJ: I think Cinderella teams are more likely to get into today's tournament of 64 teams as opposed to the 16 team format.
Q: Is there anything you'd change about the NCAA tournament?
KAJ: I think the tournament does a good job of getting the best teams involved. That is a big improvement from the time that I played in the tournament.
Q: Do you think student athletes are leaving school to early for pro careers?
KAJ: I think any student athlete is better off completing their education either before they enter the professional ranks or after.