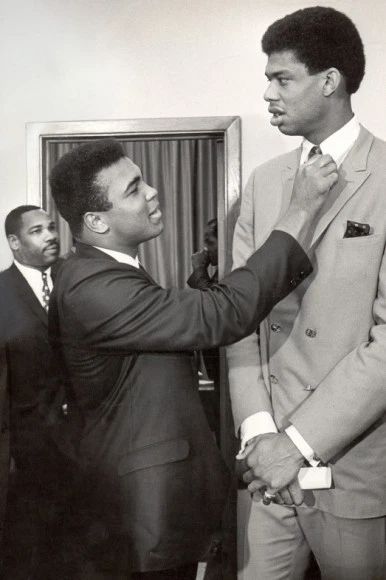 When I first met opens in a new windowMuhammad Ali, he was performing magic tricks on Hollywood Boulevard. I was a freshman at UCLA walking along the street with two of my school buddies when we saw him strolling with a small entourage, doing sleight-of-hand illusions for fans who came up to him. This was 1966 and Ali, only five years older than me, had already made his mark as the youngest ever heavyweight champion. The next year, he would be stripped of his title after announcing he would not submit to being drafted into the Army because "I ain't got nothing against them Viet Cong" who "never called me nigger." Half the world would chant his name in praise; the other half would sharpen pitchforks and light torches.
And here he was, casually walking down the street as if he hadn't a care in the world, delighting people he didn't even know with his magic. His magic wasn't just the simple tricks he performed, but his ability to draw everyone's attention to him, whether he was in a crowded room or on a busy boulevard. And once he had their attention, he never disappointed them. No matter how many people were around, he was the only one you looked at. He exuded confidence, a sense of purpose and an undeniable joy, as if he knew that he and the world made a pretty good pair.
Being a big fan, I shyly approached him to say hello. If he knew who I was, he didn't let on. He was friendly and polite and charming—and then he was gone, moving down the street like a lazy breeze, a steady stream. A force of nature: gentle but unstoppable.
The three of us walked away jabbering giddily about how cool it was to have met the champ. But to me that meeting was much more than running into yet another celebrity in L.A. I'd admired Muhammad since I was 13, when he and Rafer Johnson won gold medals in the 1960 Olympics. Rafer dominated in the decathlon and Muhammad triumphed as a light heavyweight boxer. To me, they were the epitome of the skill, power and grace of the black athlete, and they inspired me to push myself harder.
Read full article at opens in a new windowtime.com