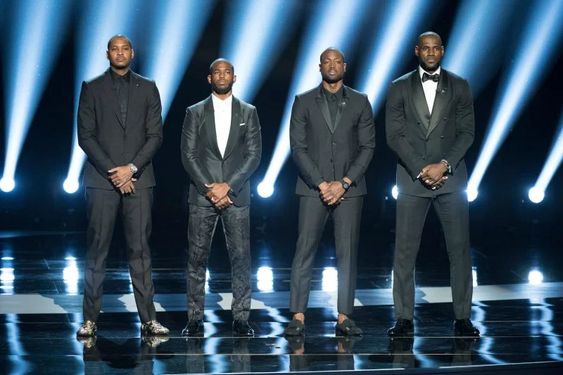 As someone involved with professional sports for most of my life, I'm gratified to see that pro athletes and sports organizations are finally being embraced as leaders against social injustice. Wednesday night, NBA players Carmelo Anthony, Chris Paul, Dwyane Wade and LeBron James opened the ESPY Awards with a call for athletes—and everyone—to work toward change. As Wade said, "The racial profiling has to stop. The shoot-to-kill mentality has to stop. Not seeing the value of black and brown bodies has to stop. But also the retaliation has to stop. The endless gun violence in places like Chicago, Dallas—not to mention Orlando—it has to stop. Enough." He continued, "Now, as athletes, it's on us to challenge each other to do even more than what we already do in our own communities. And the conversation, it cannot stop as our schedules get busy again. It won't always be easy. It won't always be comfortable. But it is necessary."
This change will have a long-term effect on American culture. Both the public and the athletes are rejecting the traditional persona of dumb jocks too numbed on steroids to see beyond their own chiseled reflection in a full-length locker-room mirror. That dismissive image has been destructive not just to sports but America in general. It promotes an arrogant, dim-witted role model who lends moral support to bigots, misogynists and homophobes.
The old line about athletes keeping their mouths shut as not to offend the paying customers is thankfully now a thing of the past, when the public chastised pioneers of athletes using their celebrity to publicize a cause. In 1967, Muhammad Ali was vilified and stripped of his heavyweight title for refusing to be inducted into the army in protest of our involvement in the Vietnam War. The next year, when Tommie Smith and John Carlos raised their fists in a Black Power salute during the 1968 Olympics to protest racial inequality in the U.S., they were kicked off the Olympic team, and they and their families received numerous death threats. Jesse Owens, Jackie Robinson, Jim Brown, Billie Jean King and Arthur Ashe all led us forward. Each were evoked last night. I'm honored that my name was among theirs.