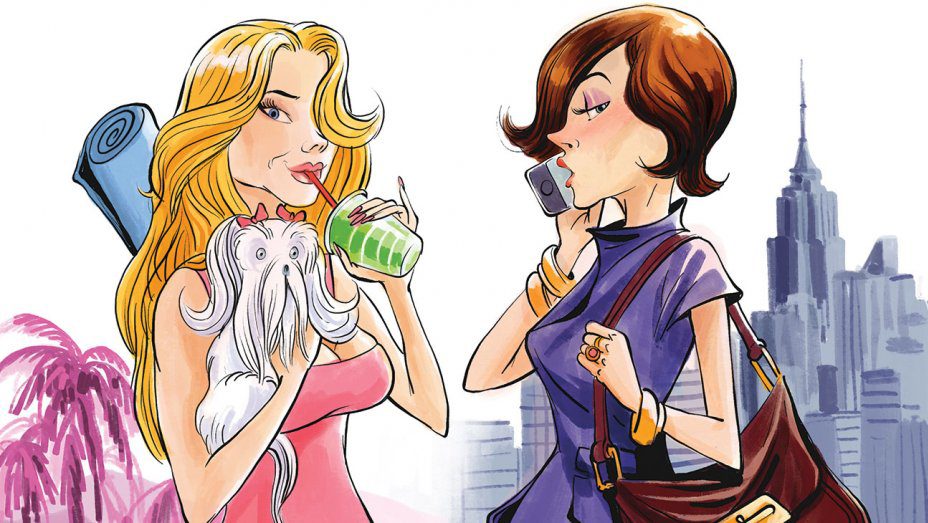 Illustration by Zohar Lazar
New York is the city of "self-made hustlers," while Los Angeles is the final destination for the "rich and famous," writes the NBA Hall of Famer.
Were they alive today, I'm sure the great thinkers like Albert Einstein, Sigmund Freud and Simone de Beauvoir would all agree: Every burning question we have about American culture can be profoundly answered by watching The Real Housewives. This is particularly true when it comes to understanding the subtle yet significant differences between New York City and Los Angeles lifestyles and mind-sets. A closer examination of the Zen of The Real Housewives of Beverly Hills and The Real Housewives of New York reveals the major cultural contrasts between the home of the NYC middle-finger salute and the home of the SoCal "hang loose" hand wave.
First, my bona fides for commenting on both cities: I grew up in New York City and spent much of my youth in Harlem, where I played street ball, frequented jazz clubs, got caught in a race riot and spent a summer as a journalism intern, during which I even interviewed Dr. Martin Luther King Jr. Although I traveled throughout the city and all its boroughs, I felt at home on the streets of Harlem, among the black faces — including the black mannequins in store windows — and the jazz and soul music leaking from transistor radios on the street. Even after my four years living under relentlessly cheerful Southern California sun while playing at UCLA, my dream was to return to New York when I turned pro.
I ended up in Milwaukee, caught between both coasts. The people there were gracious, generous and supportive, but when the opportunity arose to play for the Los Angeles Lakers, I chose Southern California, where I have lived for more than 40 years. I frequently visit New York for business and pleasure but return to L.A. to live my life. Whenever the plane approaches JFK Airport, I feel a buzz of excitement in my chest because I know something unpredictable and spontaneous will happen. When the plane approaches LAX, my whole body relaxes because I know I'll be home soon, among friends and family. The city is soothingly predictable.
Read full article at hollywoodreporter.com