Kareem Abdul-Jabbar's new film unveils a hidden chapter from hoops history
by Patrick Goldstein and James Rainey on Entertainment and Media
LA Times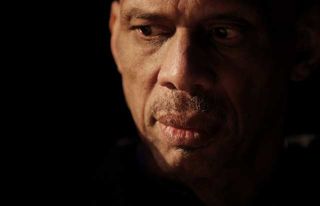 It's hard to imagine any institution that has done more to showcase African American style and culture than basketball, which has spawned generation after generation of infectious icons of cool, from Bill Russell, Dr. J and Magic Johnson to Michael Jordan, Allen Iverson and LeBron James. In fact, basketball's been such a bastion of black athleticism and artistry for so long that it would come as a revelation to most fans that the NBA was once just as all-white as a 1950s Birmingham, Ala., lunch counter or, ahem, the executive suites of today's movie studios.
The story of basketball's pioneering black team is the subject of a fascinating new documentary from Kareem Abdul-Jabbar called "On the Shoulders of Giants: The Story of the Greatest Basketball Team You've Never Heard Of." It's somehow appropriate that the documentary comes from Abdul-Jabbar, 63, who is the NBA's all-time leading scorer and a six-time league MVP but, more important, who has carved out a second career as a historian, writing books about little-known African American trailblazers and heroes.
"Kareem is a real historian and storyteller," said Spike Lee. "He's been writing great books about neglected areas of American history — now he's just changed mediums. Even I learned a lot that I didn't know. I told [NBA Commissioner] David Stern he should provide a DVD of the movie to every player in the league so the young cats could know more about their history."
The new movie, co-written and co-produced and partially financed by Abdul-Jabbar and directed by Deborah Morales, is now available through video on demand on a number of cable services. It chronicles the saga of the Harlem Rens, a team that reinvented the game in the 1920s and 1930s and ended up being the first black team to play against (and soundly defeat) white teams in an officially sanctioned championship tournament. (One of the white players who was drubbed by the Rens was John Wooden, Abdul-Jabbar's future coach at UCLA.) Abdul-Jabbar could find only 40 seconds of actual footage of the Rens, but he brings their story to life with some imaginative multimedia animation and striking visual art of the players. The film also has interviews with such luminaries as Spike Lee, Maya Angelou, Cornel West and Wynton Marsalis, who collaborated on the film's music with Herbie Hancock, will.i.am, Chuck D and Bill Cunliffe.
But what makes the movie so memorable is that it's not just about basketball. It's a cultural history that captures the intellectual ferment of the early 20th century Harlem Renaissance, when Harlem was the crossroads for black culture. Few understand that history better than Abdul-Jabbar, who grew up in the Inwood and Washington Heights neighborhoods of northern Manhattan.
Sitting in the sun outside of Royce Hall at UCLA, where he played for some of Wooden's legendary championship teams, the famously impassive Abdul-Jabbar was animated when talking about his childhood. "I was always interested in history. Washington Heights was the last part of Manhattan that was held by the Continental Army during the Revolutionary War. When we were kids, we'd find old musket balls all around. I was always aware that there had been people here before us who impacted our lives."
Abdul-Jabbar's mother was a movie buff who'd take him to see westerns. "She knew if we saw a western that I'd be quiet at least half the time," he said. "But she liked all kinds of movies — I think she was secretly in love with William Holden." Adbul-Jabbar's father was a jazz musician who helped inspire his son's lifelong interest in jazz. "My dad would play all night at Minton's, so on Sunday morning my mom would put me in the baby stroller and go pick up my dad. Later on, when [jazz drummer] Art Blakey saw me when I was 7 feet tall, he'd say to my mom, 'This is the little baby you had in that stroller?'"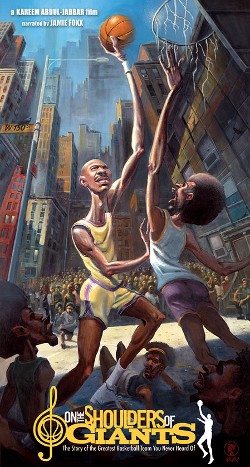 On one level, "Giants" is about Bob Douglas, a Caribbean immigrant who founded the Rens in the 1920s, making a deal with the owner of the Renaissance Ballroom, in the heart of Harlem, that allowed his team to play its games on the dance floor. All Douglas had to do was advertise the ballroom by calling his team the Rens — essentially making it basketball's first naming-rights deal.
But on another level, the film views basketball through a broader cultural prism. There was another, better known all-black team playing at the same time, the Harlem Globetrotters. While the black-owned Rens were purists, priding themselves on athletic skill, the white-owned Globetrotters were cast by their owner Abe Saperstein as showmen, relying on clownish antics to entertain largely white audiences. (The NBA was not integrated until 1950.)
Of course, these attitudes played out in other areas of entertainment. In jazz, Louis Armstrong often would shuck and jive to put white audiences at ease. In film, early black stars were cast in minstrel-like roles for years. Even today, when the music business is full of successful African American entrepreneurs and NBA athletes are among the most marketable stars on the planet, most black actors still play the fool, such as in Martin Lawrence's new film, "Big Mommas: Like Father, Like Son," or any Tyler Perry comedy.
It's one key reason the Oscars are all-white this year, as black actors rarely get to star in dramas, the genre that spawns nearly every acting and writing nomination. The key to change, Abdul-Jabbar believes, lies in African American ownership. As Cornel West puts it in the film, "We got a lot of black people with big cash [who] make big money in entertainment, but who can greenlight a film?"
"The change is going to have to come from the black community," said Abdul-Jabbar. "Black ownership would make it easier for films to get made about black Americans. People say that films about black Americans don't sell well overseas, but I think that's a self-fulfilling prophecy. It's the same with the Oscars. There has to be some product for the academy to assess before minorities can even be considered for awards. If we had black entrepreneurs in Hollywood, I think you'd see a lot more films that would cross every color line imaginable."
Abdul-Jabbar always admired Wooden because he was a coach who also saw himself as a teacher. Now it's Wooden's student who is the teacher, helping turn a spotlight on the neglected corners of our past. "I love seeing kids watch this film, having their curiosity piqued," he says. "I know from my own experience that if you start thinking about history, it leads to a better understanding of where we all come from."
–Patrick Goldstein
Photo: Kareem Abdul-Jabbar at a screening of his film, "On the Shoulders of Giants" in Newark, New Jersey.
Credit: Julio Cortez/Associated Press