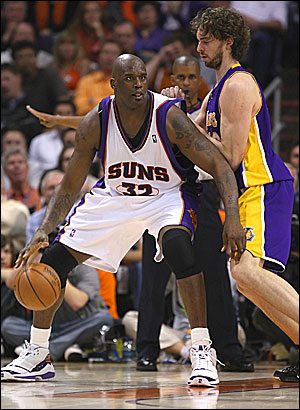 opens IMAGE file
The Lakers stepped up and delivered in a major way in last week's victory over Phoenix. It was a statement of the first order. The Suns' acquisition of Shaquille O'Neal was an attempt to put some muscle and size in the mix for a small but speedy lineup. Shaq was able to deliver some muscle but that alone is not going to stop these Lakers.
The depth and cohesion of the Lakers squad is a pleasure to watch for Laker fans. Pau Gasol has made a seamless transition to the Laker offense and complements Kobe perfectly. His ability on the perimeter to shoot, pass or attack the hoop creates problems for both his defender and those trying to help. Lamar Odom is like a Swiss Army knife at both ends of the court and is a threat to produce triple-double stats at any time.
Kobe was his usual self despite an injury to his shooting hand. The most ominous fact for their opponents is that the Lakers are not even at full strength. Trevor Ariza and Andrew Bynum are still sidelined with injuries at this point. When they return, we may get to see some truly scary hoops.
Like the rest of the Laker faithful, I can't wait for the next episode.