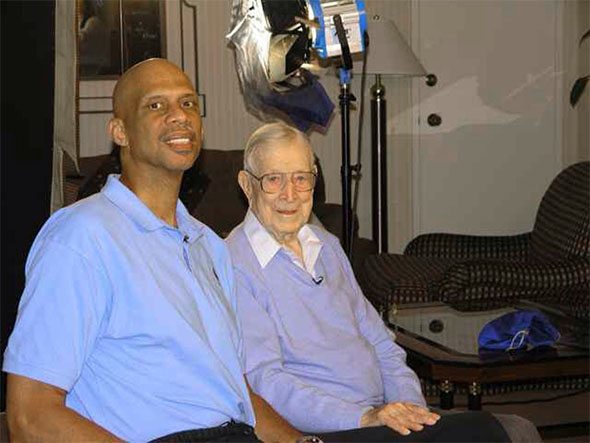 by Kareem Abdul-Jabbar
How does one assess John Wooden? How does one assess a giant?
Coach was gifted in so many ways that it is difficult to pin him down in a few words. I'm sure that as time goes on, volumes will be produced on the subject of John Wooden, and people will still be unsatisfied with the lack of depth of information regarding this extraordinary man. Coach was a very gifted athlete. He was a consensus All-American in basketball at Purdue and he played professionally for the "Kautsky" basketball team in Indianapolis. Coach was so good that he was known as the "Indiana Rubber Man" due to the many times he ended up on the floor while pursuing the ball. But he "always bounced back up"…hence, the name "rubber man."
Basketball wasn't the only game he pursued. On one UCLA road trip, I was watching two teammates play pocket pool at the student union where we had just finished our team meal. Coach Wooden was challenged to try and make a shot or two. He calmly took the cue and for the next thirty to forty minutes, we watched him run three to four racks of balls. A good number of them involved difficult angles, long distances, or knowledge of how to use the rails on a bank shot. He finally stopped when he grew tired of sinking shot after shot. Later that year, I asked Coach where he acquired his skill at billiards, and he said that it was the result of the many misspent hours of his youth. I guess that "River City" was not the only place where pool diverted the ambitions of young men. (River City was the fictional town in the Broadway musical "The Music Man," where pool was seen as a threat to the morals of young men.)
Baseball was actually Coach's favorite sport. He was able to enjoy the game when Babe Ruth and Ty Cobb and Lefty Grove were doing their thing. Catchers Bill Dickey and Josh Gibson were his favorite players, and he watched a number of Negro League games because the majors had no team in Indianapolis. He played at Purdue and was offered a job managing the Pirates in the early 1950s. His commitment to UCLA was the only thing that kept him from giving it a shot. In the last years of his life, I would look forward to having the opportunity to discuss the upcoming major league season with Coach. We would talk about our "dream teams' and dream match-ups of dominant players. Like so many lifelong baseball fans, he was very disappointed by the steroid scandal.
Coach absolutely believed that the reason for his success on so many levels was his adherence to the Christian morals and principles that he was raised with. His family suffered a major setback just before the beginning of the Depression. It resulted in the loss of the family farm. Even so, Coach's father would not give in to self-pity or the often-used excuse of blaming others. The senior Mr. Wooden relied on what he knew to be true: faith and family, and through sheer determination, he was able to keep that family together during the worst economic conditions of the 20th Century. Knowing what was right and wrong and choosing to do the right thing was the only way that Coach knew how to act. For me, one story about choices clearly illustrates the essence of how Coach lived his life. In 1946 Coach Wooden was the basketball coach at Indiana State, and they'd had a great year, leading to an invitation to the NAIA tournament held in Kansas City (?). Coach got a call from the tourney organizer, congratulating him and inviting the team to come play in the tournament. However, there was one condition that had to be met for Indiana State to make the trip. Coach was told that he could not bring Clarence Walker, an African American who had played very few minutes all season. Coach thanked the organizers of the tourney for the invitation, but he told them that he had to bring his whole team or they wouldn't be able to participate. The following year, Indiana State had an even better season than the year before and received the same invitation from the National Association of Intercollegiate Athletics (NAIA). This time, the tourney promoter gave in to Coach's principled stand, though Coach had to find a black minister who could house Clarence Walker because the hotels in Kansas City were segregated. Nonetheless, a blow had been struck for the Civil Rights Movement – a movement that was barely gaining momentum at that time. I find it fascinating that Coach never tried to claim any credit for his stand: he knew it was the right thing to do, and that — by and of itself — was enough for him. It never became widely known that Coach had confronted segregation, but his satisfaction came from knowing that he had done the right thing.
The best times I personally shared with Coach were those times on road trips when we would have quiet moments to talk about whatever was on our minds. Coach would share some of his favorite poems with me, and I would talk to him about my favorite books (since, as a former English teacher, he was aware of many of them). His taste in poetry included Shakespeare, Robert Frost, Elizabeth Barrett Browning, and — much to my surprise — Langston Hughes. I have always been a big fan of crime stories and mentioned Dashiell Hammett, Raymond Chandler and Arthur Conan Doyle. The most important result of our conversations was that he let me know that I should realize my potential as a scholar as well as an athlete. He felt that that approach would be the best for me in the long run. Of course he was right on the money with that guidance or that double role.
At every turn in the road, the man that I knew walked it like he talked it with no exceptions. There are very few of us who were made in that mold: the mold of a giant. Sir Isaac Newton said, "If I have seen further (than other men), it is by standing on the shoulders of giants. Coach was a giant in so many people's lives. He was very proud of my efforts to showcase the inspirational heroes that paved the way to the integration of basketball in my upcoming documentary, On the Shoulders of Giants. Though the film highlights "the greatest team you never heard of," Coach had not only heard of them but had played against them many times, and called them "the greatest team I ever saw play." John Isaacs, one of the players on that world-champion "Harlem Rens" team, returned the compliment. He confided in me that Coach was the toughest person he ever met on a basketball court. I'm so grateful that I was able to memorialize Coach talking about that particular friendship and rivalry. I'm really pleased that I have this opportunity to share with the world an unknown but significant part of Coach's life. People should be aware even of small details such as these. I know Coach is smiling because the perfectionist in him would appreciate the fact that I am trying to get these "small details" told in the right way.
© Copyright 2010 Kareem Abdul-Jabbar