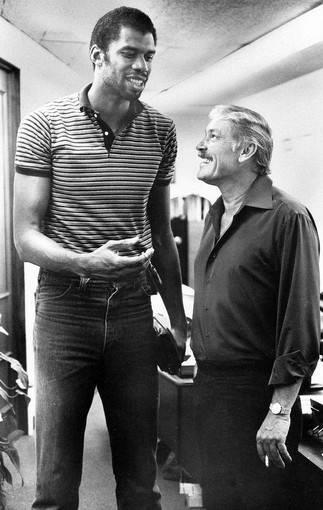 To me, the mark of a great man is not the towering monuments he's built during his life, but the tender memories he's left in those who remain after his life.
The fact that so many of us have come together to celebrate those tender memories of Jerry Buss is a testament to his greatness.
Today you will hear about his many virtues and accomplishments, both as a businessman and a family man. Rightfully so.
Jerry changed the face of professional basketball and made it possible for players like myself, Magic Johnson, James Worthy, and Kobe Bryant to play to our potential and bring championship trophies to Los Angeles.
Jerry embraced life with the same enthusiasm and energy that Magic embraced me when we beat the Clippers in his first NBA game. You know what I'm talking about.
This passion for life made Jerry a modern Renaissance Man. He was a beloved college professor, a courageous entrepreneur, and a generous philanthropist. No matter what he did, he was a success. Perhaps his greatest quality was his willingness to share his success with everyone else.
When I think of Jerry, I like to picture him at his beloved poker table where he had great success in several major tournaments. I think of him sitting there with the world's best poker players, staring them down, and suddenly pushing all his chips into the middle and declaring with a twinkle in his eye, "All in!" That's the way Jerry lived his life. All in, all the time.
John Steinbeck once said, "It's so much darker when a light goes out than it would have been if it had never shone." But I think in the case of Jerry Buss, we will all be enjoying the bright light he cast for many years to come.
— Kareem Abdul-Jabbar