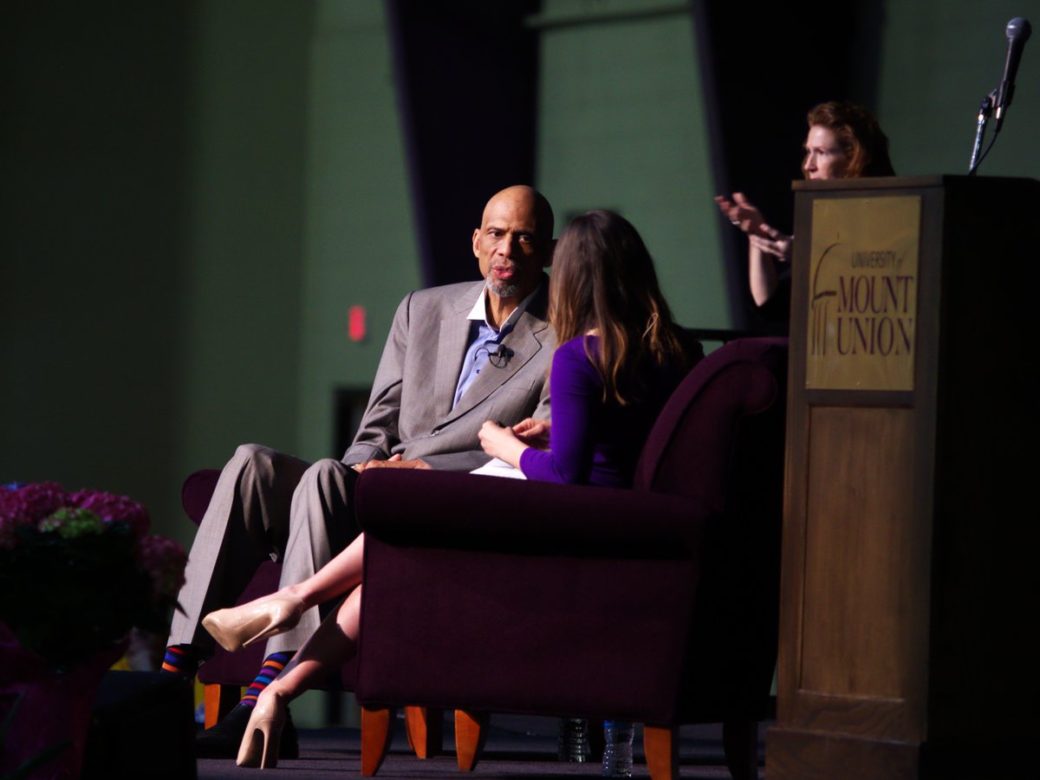 On Tuesday, April 4th, Naismith Memorial Basketball Hall of Fame member, philanthropist and best-selling author Kareem Abdul-Jabbar was welcomed by a sold out crowd of nearly 5,000 in Mount Union's McPherson Academic and Athletic Complex. Abdul-Jabbar was hosted by Mount Union for the annual Schooler Lecture, which is the highlight of Mount Union's Lecture Series.
Prior to the lecture itself, Abdul-Jabbar spoke briefly at a dinner before the event, composed mostly of Mount Union alumni and sponsors of the event. During the dinner, Abdul-Jabbar fielded a handful of questions about challenges in his life as well as some athletic questions, highlighted by a discussion about one of his good friends, the late Muhammad Ali.
Following the dinner, Abdul-Jabbar was welcomed to applause and cheering by the record crowd assembled in the Peterson Field House. Abdul-Jabbar opened things with a brief speech entitled "It's All About the Rebound" that spoke about overcoming the challenges in life, touching on some of his personal challenges such as dealing with the loss of his parents and mentor Coach John Wooden, the personal pain he endured when his house burned down during his playing career, taking his possessions with it, and his challenging decision to uphold his integrity when choosing to commit to play in the NBA rather than the ABA.
Read Full Article Here: UMUdynamo.com
[share title="Share Online" facebook="true" twitter="true" google_plus="true" linkedin="false" pinterest="true" reddit="true" email="true"]
Related News
[recent_posts type="post" category="news" count="3″ offset="100." orientation="horizontal" no_image="false" fade="false"]