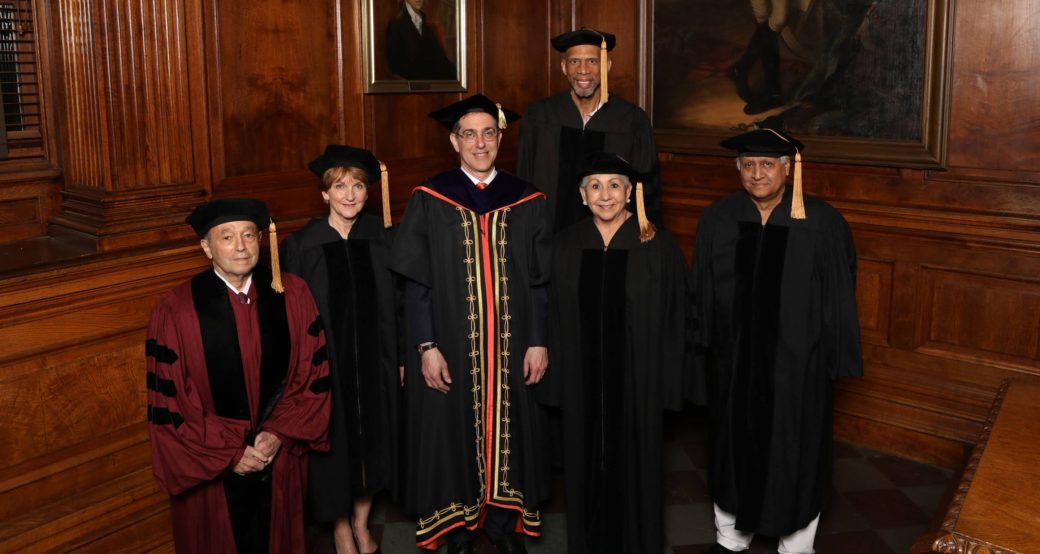 Princeton University awarded honorary degrees during Commencement exercises Tuesday, June 6, to five individuals for their contributions to athletics, education, the humanities, public service and the sciences.
Princeton President Christopher L. Eisgruber awarded degrees to Kareem Abdul-Jabbar, basketball star, writer and social activist; Juliet Villarreal García, a pioneer in higher education; Pamela Matson, an academic leader in environmental sciences; Jeremiah Ostriker, a Princeton astrophysicist who served the University in a range of roles; and Bunker Roy, a grassroots educator and social entrepreneur in India.
Kareem Abdul-Jabbar, Doctor of Humanities
Kareem Abdul-Jabbar, born Ferdinand Lewis Alcindor Jr., is the National Basketball Association's all-time leading scorer and a six-time NBA champion. As a student at the University of California-Los Angeles from which he graduated in 1969, he played on three consecutive national championship basketball teams. He was picked first in the 1969 NBA draft by the Milwaukee Bucks and joined the Los Angeles Lakers in 1975, retiring in 1989. Abdul-Jabbar is also a writer. He is the author of "Writings on the Wall – Searching for a New Equality Beyond Black and White," published in 2016, and his memoir, "Coach Wooden & Me," about his 50-year friendship with the late UCLA coach John Wooden, was released in May. Abdul-Jabbar is a regular contributing columnist on social and political issues for The Washington Post and Time magazine. He also writes action-mystery novels and comic books about the fictional character Mycroft Holmes, the elder brother of Sherlock Holmes. Abdul-Jabbar is chairman of Skyhook Foundation, which brings educational STEM opportunities to underserved communities. In 2015, his Emmy Award-winning HBO Sports Documentary, "Kareem: Minority of One," debuted as HBO's most watched and highest-rated sports documentary. In 2016, Abdul-Jabbar was awarded the Presidential Medal of Freedom by President Barack Obama.
Three times he lifted a championship trophy at UCLA, and six times he did the same in the NBA. Yet, as he says, "I can do more than stuff a ball through a hoop; my greatest asset is my mind." He puts that asset to work every day as an activist and ambassador for the underserved. His signature Skyhook lives on as the greatest shot in basketball history, and as the name of his foundation that gives youth a shot at their full potential. He is a prolific writer, and through heroes as diverse as Mycroft Holmes and John Wooden, he champions strength of character, faith and belief in the power of truth. Honored by his sport in the Hall of Fame, and honored by his country with the Medal of Freedom, we honor him today as a towering humanitarian.
Read More: opens in a new windowPrinceton.edu
[share title="Share Online" facebook="true" twitter="true" google_plus="true" linkedin="false" pinterest="true" reddit="true" email="true"]
Related News
[recent_posts type="post" category="news" count="3″ offset="100." orientation="horizontal" no_image="false" fade="false"]