ALA News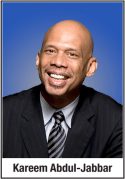 CHICAGO – The NBA's all-time leading scorer and New York Times best-selling author Kareem Abdul-Jabbar has been named the official spokesperson for the 2013 celebration of School Library Month.
"At the 2011 AASL National Conference, Kareem Abdul-Jabbar impressed school librarians from all over the country with his book and film 'On the Shoulders of Giants,'" said Cassandra Barnett, School Library Month committee chair. "As an author, former basketball player and well-educated man, we believe that he is a powerful spokesperson for school libraries."
Of school libraries, Abdul-Jabbar said, "America's school libraries are an inexhaustible fountain of knowledge. They provide today's students with the skills they need to achieve great things in their lives. School librarians help children develop a love of reading and teach them to become critical thinkers. In other words, they are essential to building a child's greatest asset – their mind."
Considered by many to be the greatest basketball player of all time, the 7-foot-2 Abdul-Jabbar captured the NBA's MVP six times, was a 19-time All-Star and was famous for his indefensible skyhook. He is the NBA's all-time leader in points scored, a record that stands after being retired for nearly 25 years.
A lifelong passion for history led Abdul-Jabbar to author seven best-selling books on various historical subjects. His most recent children's book, "What Color Is My World," looks at the lives of little-known African-American inventors. Abdul-Jabbar is dedicated to bringing history and social studies to children across the globe, using basketball as the language that unites them. His next book, "Sasquatch in the Paint," is due out in Fall 2013 and is loosely based on the challenges Abdul-Jabbar faced while growing up.
"It is so meaningful that one of basketball's all-time greats has stepped up to the line to celebrate the importance of quality school libraries," said Susan Ballard, AASL President. "Kareem Abdul-Jabbar has previously observed 'Your mind is what makes everything else work,' so, we are delighted he is serving as the official spokesperson for School Library Month and as our champion to help make sure that kids are using their minds to think, create, share and grow in order to achieve their personal best."
School Library Month is a national celebration of the essential role that strong school library programs play in a student's educational career. Each year in April, School librarians are encouraged to create activities and events that involve their school and local community. Established in 1985, the 2013 theme is "Communities matter @ your library." Information and resources can be found on the AASL website at www.ala.org/aasl/slm.
The American Association of School Librarians, www.aasl.org, a division of the American Library Association (ALA), promotes the improvement and extension of library services in elementary and secondary schools as a means of strengthening the total education program. Its mission is to advocate excellence, facilitate change and develop leaders in the school library field.