Steve Greenberg – Sporting News
If Kareem Abdul-Jabbar is known for one thing, it's being perhaps the best center in history. Second, he is known — or not known — as a taciturn icon who never seemed able to express his joy during one of the greatest rides any athlete has ever had. "Twenty-two years after I retired," he says, "I realize people just wanted to know what made me tick."
As the current Lakers team was falling apart vs. the Dallas Mavericks, he spoke with Sporting News' Steve Greenberg at the City Club on Bunker Hill on the 54th floor of the Wells Fargo Center in downtown Los Angeles.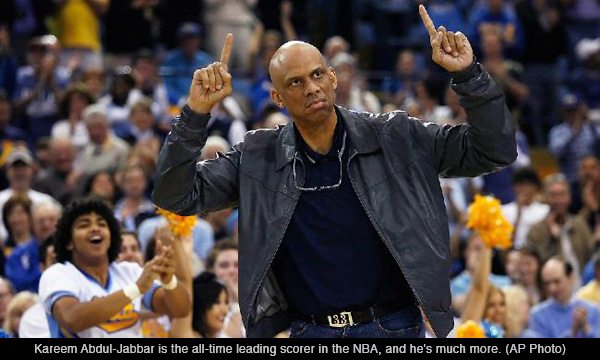 SN: Are your 60s what you imagined them to be like as a younger man?
ABDUL-JABBAR: I had no concept of what it meant to be this age. The only example I had was my parents. My mom was 79 when she passed, and my dad was 86. But my generation is radically different in these later years than what our parents went through, so it's all a discovery for me.
SN: Perhaps because you haven't routinely sought the spotlight in the 22 years since you stopped playing, you seem almost frozen in time — however fans would've described you as a person then, that's how they'd describe you now. But did they see you for who you were then, and do they now?
ABDUL-JABBAR: That all makes a lot of sense. No, probably a lot of them didn't and still don't. I was kind of a mystery man as far as what was happening inside my heart and my head. That goes all the way back to high school. My high school coach didn't want me talking to reporters because he'd witnessed the basketball scandals in New York — the betting scandals — and a lot of it had to do with strange guys coming up to athletes and saying, "Look, I can put some money in your pocket," so he didn't want us talking to anybody. Then when I got to UCLA, there was such demand that John Wooden said, "Don't talk to them." Different motivation, same result. By the time I got to be a professional athlete, I had a very strong distrust for the media. And it didn't serve me well.
SN: Did you hold your cards too close?
ABDUL-JABBAR: Way too close. I've learned that most people weren't of a mindset to judge me harshly. For the most part, if you share yourself, they'll give you an even break. But when I started playing professional basketball, the old idea of "what (players) do is their own business" kind of dominated. (Shortly after) I got out of the league, they had Dennis Rodman running around in a wedding dress. So there was a real sea change in how athletes were viewed and the curiosity the public had about them. When the Lakers got Magic on the team, he was very media-friendly and it made it a lot easier on me. I was able to open up and not have to be so apprehensive about exposing myself. But it was still difficult for me.
SN: Do you believe that words like reticent or introverted or even just shy have ever truly applied to you?
ABDUL-JABBAR: I was shy. I was a shy kid. Being the tallest and getting all that attention just because I was the tallest made me very cautious because I knew that people would see me first. And then the prominence I gained as an athlete more or less reinforced that.
SN: Can't a guy be shy? Is it necessary for him to be an open book?
ABDUL-JABBAR: No, it's not necessary for someone to be an open book, but the American sports fan wants that.
SN: There must be other words that are at least as fitting and probably more so: intelligent, principled, dignified, worldly. Any of that sound like you?
ABDUL-JABBAR: I try to be all of those things, absolutely. When I grew up, the Civil Rights movement was really in its full swing and black Americans oftentimes were judged by prominent black Americans. (People) thought all black Americans were like Jackie Robinson or, on the negative side, like a Willie Horton. It was one or the other. So that kind of affected me. I carried an extra burden that every black American would be affected in some way by how I conducted myself.
SN: Through the years, you've become a real expert on black American history, haven't you?
ABDUL-JABBAR: I'm a historian, and I like to teach. I think I could really enjoy having a career as a filmmaker continuing to do stories having to do with the black experience in America. (Abdul-Jabbar's documentary film On the Shoulders of Giants, the story of the barnstorming Harlem Rens of the 1920s, '30s and '40s, is available on Netflix.) There are so many aspects of what black Americans have contributed to American life that have not been fully realized by the American public, and that would really go a long way in having an effect on how we relate to one another, the different ethnic groups.
SN: You've also become a finance buff, correct?
ABDUL-JABBAR: Oh, yeah. I had a close call (in the late '80s) — a guy that was my manager made some bad investments, and it ended up I had to sue. I was very fortunate that I got my money back, but in the process between when people found out that something had gone wrong and when I got my money back, there was a non disclosure agreement, so I couldn't talk about it. So everybody thought I lost all my money.
SN: That's the way a lot of people remember it — that you were ruined financially.
ABDUL-JABBAR: And that didn't happen. But, again, I didn't find out for myself what I needed to know to just be able to ask the right questions and direct people who were responsible for managing my finances. Several basketball players and football players, people that I know, made millions and millions of dollars and did not manage them well and ended up being broke. It's a long list of people, and I think that really has to do with the fact that they didn't prepare themselves to deal with these issues.
SN: You mentored Lakers center Andrew Bynum on and off the court for the first four years of his NBA career, a working relationship that ended in 2009. Was that an effective, successful relationship?
ABDUL-JABBAR: I think I did a very good job with him in terms of what he needed to learn about the game of basketball, and I encouraged him to be broader than that. I gave him a few books to read. But Andrew had good grades in high school (before jumping straight to the NBA). He's an intelligent young man.
SN: Why haven't you been a head coach in the NBA or in college?
ABDUL-JABBAR: I would've liked to have been a head coach in college or in the NBA, but that didn't materialize. I think I was kind of late. I played until I was 42, and then I took about five years off at that point. I was, like, 47 when I let people understand that I wanted to coach, and most coaches start in their late 20s, early 30s.
SN: Is it something you still want?
ABDUL-JABBAR: I've always thought I had a lot to give.
SN: Is age the only reason your numbers declined toward the end of your career?
ABDUL-JABBAR: I tried to focus on what the team needed. We reached a point where we had good balance, so the whole idea of being the threat in the paint — that was my job. And I was able to do that for a long time. I didn't demand that I get the ball more when we had other guys, like Byron (Scott) and James Worthy, that could score. I didn't see a need to do that. That was how I led.
SN: Perhaps you'll share your personal life with us. How big a part of your life is your Muslim faith?
ABDUL-JABBAR: My faith really gave me a moral anchor in my attempts to do the right things in terms of raising my kids and giving them values, and it gave me values that enabled me to live a moral life — for the most part. No one's perfect, but it enabled me to keep some balance there. And as far as my kids are concerned, they all ended up doing well. I can't take all the credit; their moms have got to get some of that.
SN: As not only a Muslim but a born-and-bred New Yorker, son of a police officer, how did you feel watching the celebratory reactions on American streets after the assassination of Osama bin Laden?
ABDUL-JABBAR: Killing 3,000 people in one swoop, for no good reason, it's despicable. So I have no sympathy for Mr. bin Laden — he got what he deserved. I hope for the families who've lost loved ones, it's some type of closure. We're still involved in dealing with radical Muslims, but in terms of the people who lost loved ones and who were directly affected by Mr. bin Laden's fanatics, I thought it was a positive development.
SN: How is your health? Is your leukemia still in remission?
ABDUL-JABBAR: I'm in total remission. It's next to impossible to detect it in my blood. I'll never be totally, completely cancer-free, but I'm in total remission and as long as I continue to do what the doctors tell me to do, I should be able to maintain that.
SN: A 7-foot man can break down in a multitude of ways, been able to escape the pain.
ABDUL-JABBAR: I've had two operations on my feet; my toes got a little weird there. I've come back more than 98 percent in terms of flexibility and the use of my (feet). Lots of yoga. I used to run a lot, but I've slowed down. But I still jump rope, stretch, do weight training.
SN: At center today, you start with Dwight Howard and then there's everybody else. Who has been the most Kareem-like — the most complete center — since you?
ABDUL-JABBAR: Maybe (Hakeem) Olajuwon because of his skill he developed over years of working on it. … For me, there was no place where I had to be competent on the court (from where) I didn't know how to score. That takes work.
SN: Do you find it odd that 20-plus years have gone by without any big man successfully replicating, or even putting a twist on, the most uniquely effective big man's scoring move of all time — your sky hook?
ABDUL-JABBAR: It does surprise me that no one's, like, figured it out on their own. But I think a lot of it has to do with the way the game is taught now. All the kids that are learning the game, they learn guard skills; they don't learn how to play with their backs to the basket in the paint.
SN: How would you have fared against Bynum, Pau Gasol and this extraordinarily big Lakers team?
ABDUL-JABBAR: How would I have fared? (Smiles.) Very well. There was never anybody that could guard me. For the 20 years that I played, I was too much of a problem to be guarded.
SN: You may be shy, but you were Roger Murdock—that means you're also funny. What's your funniest basketball story?
ABDUL-JABBAR: The ball boys in Detroit would complain because Bob Lanier and one or two of his teammates, at halftime they had to smoke cigarettes. They really needed them. They would go into the shower and smoke cigarettes and come out and play the second half.
SN: Wait, the shower?
ABDUL-JABBAR: Because it wouldn't contaminate the atmosphere for the other guys on their team. The coach even did it, Ray Scott — he smoked in there, too. But I knew if Bob did that he couldn't run in the second half, so I made sure I was always able to run. He'd be in so much pain.
SN: What's one more thing you'd like to say?
ABDUL-JABBAR: I think I've had an incredible life. I've been blessed. I've got (five) wonderful kids. Just knowing that they're doing well with their lives and that their lives aren't all distorted because of my life, that to me is the best of everything.