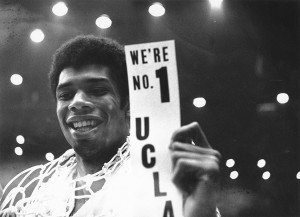 Special for USA TODAY Sports
"A champion is someone who gets up when he can't." — World Heavyweight Champion Jack Dempsey
The question I'm asked most often by fans is "How does one become a champion?"
I can answer that with one word: conviction. Without conviction, it doesn't matter how much natural athletic ability you have, you will never rise to the level of champion. History has proven this over and over again as we've seen promising athletes grab attention and headlines on their meteoric rise to fame, only to flame out and plunge back to the ground, their careers in smoldering ashes.
Part of the reason for this flame-out is that being famous is not the same as being a champion. Conviction is about being dedicated to becoming the best athlete your mind and body will allow you to be, not the conviction to becoming good enough to be a media star. And that difference in attitude and goal is why so many talented collegiate athletes struggle when they join the ranks of professional athletes. They thought the goal was to get to the pros, when really the pros is only a platform for the real goal: to become better athletes.
There's a popular adage: dress for the job you want, not the job you have. The same principle applies here: you have to see yourself as a champion long before you actually become one. Sure, it's a major advantage to be born with an abundance of physical gifts. But even competitors who may be less physically gifted than others can reach the top through effort, determination, and preparation. What has been said about the race not always going to the swiftest is absolutely true. Give me the turtle with conviction any day.
I was so fortunate to learn the core lessons of championship from my college coach John Wooden. Coach Wooden used 15 qualities to define the necessary attributes that lead to success. Here's a handy list:
1. Industriousness
2. Friendship
3. Loyalty
4. Cooperation
5. Enthusiasm
6. Competitive Greatness
7. Poise
8. Confidence
9. Condition
10. Skill
11. Team Spirit
12. Self-Control
13. Alertness
14. Initiative
15. Intentness
I was never able to memorize the whole list of attributes, but by attending Coach Wooden's practice every day, I was able to learn by doing until every item on that list became second nature. It's not enough to know these 15 qualities; you have to practice each of them until they are as much a part of your muscle memory as catching a pass without thinking about it.
Most of Coach Wooden's list are self-evident to every serious athlete, so I'm not going to describe each one. Rather, I'm going to simplify the process of becoming a champion to a few principles.
First is Coach Wooden's mantra: "Failing to prepare is preparing to fail." What made Coach Wooden so extraordinary was that he wasn't referring to winning. Failure didn't mean losing the game; failure was losing faith. I would play 90 games for Coach Wooden, and even though he wanted to win the games that we played, he never, ever told us that we had to win a game. What he would tell us was that if we played any game with determination and an accurate adherence to our game plan, we would probably be satisfied with the results of the game. By giving our best effort and sticking to our game plan, we would have the best chance to win. And if we lost, we could say in all honesty that we tried our best and were beaten by a better team. That is something any competitor should be able to live with. This focus on each of us doing our best, following the game plan without panicking, and trusting our teammates and coaches, is what made us champions.
The preparation part of his mantra means exactly that: do the work. Off-season, on-season, whenever, there's no way to avoid the hard work that is necessary to become a champion. Muhammad Ali once said, "I hated every minute of training, but I said, 'Don't quit. Suffer now and live the rest of your life as a champion.' "
Coach Wooden's lessons in preparation and the dedication such preparation requires were very helpful when I entered the professional ranks. By knowing my limits and trying to push them I was able to sustain my ability to play at the highest level. I would work every off-season on aspects of my game that needed improvement and I would come to training camp in good shape. This commitment to preparation allowed me to play for 20 years, and every game that I played in, I was a starter.
Being a champion in a team sport has an additional challenge. Sometimes, no matter how great the individual, he or she may struggle for that greatness to translate into winning championships because of the team dynamics. I must give credit to the teammates who enabled me to shine. In Milwaukee, I played with Oscar Robertson, the 'Big O'. Oscar was a consummate professional and his ability to run a team's offensive operation was an essential part of the Bucks winning the World Championship in 1971. I was traded to the Lakers in 1975 and for a few years we did not have the right personnel that would give us a chance to win the Championship. However, all of that changed in 1979 when we were able to draft Magic Johnson. Like Oscar, Magic was the cutting edge as far as running a team's offense and, as a bonus, he was an entertaining performer. He was a delight for me to play with because he enabled me to enjoy smelling the roses as we won 5 Championships in 8 trips to the finals. The Showtime Lakers were by no means just about myself and Magic. The team had All-Star performers like Jamaal Wilkes, Norm Nixon, and James Worthy who in any given game might thrill the fans with their spectacular play. Players like Kurt Rambis, A.C. Green, Byron Scott, or Mychal Thompson were consistent contributors to our success. Even though they may not have been All-Stars, they made it possible for our team to be consistent. The coaches made us do the necessary things in practice to stay in shape and most importantly stay focused on being ready to compete. Because we are shared conviction, we were all able to share championships.
It's a thrill to watch today's college players and try to figure out which of them will rise to the levels of champions. My love of basketball is a direct result of watching college games. When I was still in grade school in New York City, I was able to see the Holiday Festival and NIT games at Madison Square Garden. I followed college ball intensely while I was in high school and I watched the NCAN Tournament in '62, '63, '64, and '65. At that time, I didn't know if I had the potential to be an NBA player, but I felt that the college game was something I could participate in and do well. I'm sure it has motivated thousands of young players to go for it and play college ball.
It will be a lot of fun to take part in this years 75th anniversary NCAA Basketball tourney. I must say that the NCAA was very wise to expand the tournament to 64 teams. That format gives the teams who improve during the season a shot at winning it all. As the college game gains in popularity, will there ever be an international college tourney? Given the increased popularity of the game I wouldn't rule it out.