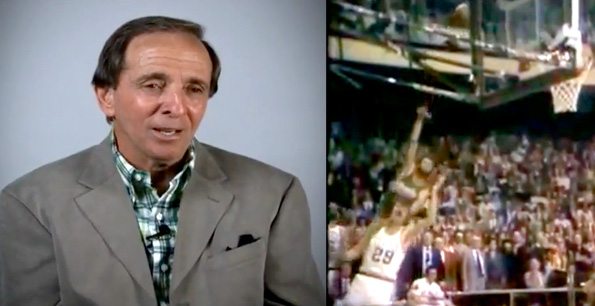 opens IMAGE file
Broadcaster Eddie Doucette recalls the birth of his term 'sky hook'
By Bob Wolfley of the Journal Sentinel
Feb. 21, 2013
Sky hook, the shot, was made famous by Kareem Abdul-Jabbar.
Sky hook, the term, was coined by former Milwaukee Bucks announcer Eddie Doucette, who is to be inducted into the broadcasting wing of the Naismith Memorial Basketball Hall of Fame in September.
In a recent telephone interview, Doucette described the genesis of the term.
According to Doucette, the sky hook was born on May 10, 1974 at Boston Garden in Game 6 of the NBA Finals between the Bucks and Celtics.
Milwaukee won in double overtime, 102-101, to tie the series and send it back to the Milwaukee Arena for Game 7.
The shot that won the game was the first time Doucette used the term sky hook. Oscar Robertson inbounded high sideline right to Abdul-Jabbar who was above the foul line. He looked to pass, but found no one open. He faced Finkel, took a dribble to the baseline and lofted a hook shot.
"He got the ball in rhythm," Doucette said. "It was as beautiful thing. A perfect pass, the way you are supposed to deliver it. So he had to take only one step and go up."
Finkel was guarding Kareem because Dave Cowens had fouled out, Doucette said.
At Boston Garden, Doucette was not seated courtside as radio broadcasters many times are in NBA venues. He was up in the first balcony.
Had he not been seated there, the term sky hook might never have made its entrance.
"When he went to that baseline and went up for that shot, it was kind of almost eye level with me," Doucette said. "It felt that way. Everything became slow motion when he went up for that shot on the baseline. Took it in stride. Went up off his left leg. Perfect balance. Right hand fully extended. Ball on the fingertips. Launched that shot. And as he launched it, it just hit me. 'That ball is coming out of the sky. That's a sky hook.' That's how it happened. I never gave it any thought. But I had to be in a position where I was located that would inspire me to think that it would be coming out of the sky."
"It was beautiful," Doucette said. "It was arched. His form was textbook. Every kid who is a big man should study how to shoot that shot. It's unstoppable. He executed it in art form and we won the game."