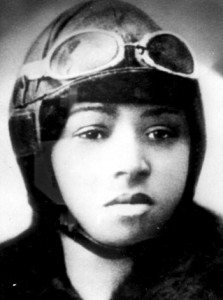 opens IMAGE file The "friendly skies" of aviation have not always been that friendly to women pilots. Currently there are about 4,000 women airline pilots out of the nearly 80,000 male airline pilots. The first female airline pilot was Helen Richey, who was hired by Central Airlines in 1934. After only 10 months on the job, she resigned because the all-male pilots union would not allow her to join. Broke and jobless, she committed suicide in 1947. (By the way, United Airlines currently has the most female pilots.)
Although history's flight toward more women pilots has been turbulent, there is one woman who shares a lot of responsibility for launching women into the air in the first place. Bessie Coleman (pictured), 1892-1926 — also known as "Queen Bess" — was the first African American woman airline pilot, as well as the first American woman to receive an international pilot's license. Too often, Amelia Earhart is seen as the pioneer woman aviator. Hopefully that will change. Too poor to stay in college, Bessie took a job as a manicurist at the White Sox Barber Shop in Chicago, where she heard about the adventures of pilots returning from World War I. It was there that she also met two powerful black businessmen, Robert S. Abbott, founder and publisher of the Chicago Defender, one of the country's most influential black newspapers, and real estate developer Jesse Binga.
These two men encouraged Bessie to take up aviation, even though they knew she had to move to France to learn because no American flight schools would accept her as both black and a woman. After earning her pilot's license and international pilot's license, she returned to the U.S.
Photo of Bessie Coleman, public domain