By Dawn Swann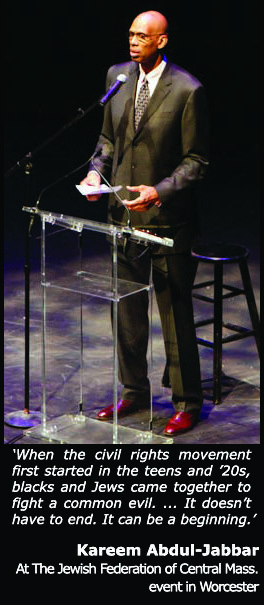 Special to the Jewish Advocate
A 7-foot-2-inch African-American Muslim may not be the first person you'd expect to see lecturing at a Jewish federation event. But last Sunday, Kareem Abdul-Jabbar packed the auditorium of Worcester's Hanover Theatre for the Harold N. Cotton Leadership Lecture sponsored by the Jewish Federation of Central Massachusetts. The basketball legend/historian brought along a signed stack of his latest book, "Brothers in Arms" – and a message urging tolerance.
"Brothers in Arms" chronicles the US Army's 761st Tank Battalion. The 761st was originally intended as a token all-black unit, but it was pressed into action when the Allies needed reinforcements. The Black Panthers (as they were nicknamed) fought for 183 days – more than double the length of traditional units.
They endured the Battle of the Bulge, and they helped liberate Jews from concentration camps.
Recognition did not come until 1978, when President Jimmy Carter awarded the battalion the Presidential Unit Citation for Extraordinary Heroism.
Among the warriors was Leonard "Smitty" Smith, a buddy of Abdul-Jabbar's father on the New York Transit police. Although Smitty was like an uncle to Abdul-Jabbar, it wasn't until 1993 that he learned about his role in the war. That discovery prompted Abdul-Jabbar to write "Brothers in Arms.
"Last Sunday, the 63-year-old Hall-of-Famer commanded the stage. The blue theater light gleamed off his long burgundy shoes, turning them an electrified shade of purple. He was at once eloquent, soft-spoken and intense. He called "Brothers in Arms" a labor of love. He drew parallels between segregation laws in the United States and the racial laws of the Nazis. He noted that in helping to liberate Jews, one oppressed group freed another.
Abdul-Jabbar then opened the floor to questions, deftly segueing among questions like: Why was your Skyhook so effective? ("Because most of the time it went in"); Do blacks and Muslims know enough about Jews, and do Jews know enough about blacks and Muslims?" ("When the civil rights movement first started in the teens and '20s, blacks and Jews came together to fight a common evil. [Andrew] Goodman was murdered in Mississippi. [There's] ample history of blacks and Jews together. It doesn't have to end. It can be a beginning.")
Deborah Morales – who coined her title "iconomist" because she says icons like Abdul-Jabbar's go "from success to significance" – sat in the balcony, as rapt as the rest of the audience. Now living in California, Morales grew up in a Jewish family in Framingham. And that may be why The Jewish Advocate was granted an hourlong dinner exclusive the night before the event.
Abdul-Jabbar is many things. In his 20 year NBA career, playing for the Milwaukee Bucks and the LA Lakers – he became the top scoring player in league history. He is an actor (remember his comic turn as a copilot in "Airplane"?). He is the author of six books. He loves to talk about history and religion.
Abdul-Jabbar recalled how "Brothers in Arms" resulted from a chance meeting at New York's Lincoln Center in 1992 at a screening of "The Liberators," a documentary about the 761st Tank Battalion. "So I go there and I hear, 'Hey kid!' and, it's Smitty!" Abdul-Jabbar said. "I was 45. I hadn't seen Smitty since I was about 17. I had no idea that he'd even fought in World War II."
We'll pick up the interview from there:
My dinner with Kareem: from WWII to 9/11
Q. When you saw the documentary, did you realize that Smitty was in it?
A. Yeah, they interviewed him. He was in it. Smitty's tank was one of the first two tanks through the gate at Dachau. I interviewed him to do the book, and then a number of his friends that were still alive.
Q. You interviewed his friends as well?
A. Yeah. And the thing that really got to me the most was when they would start talking about it, they reverted back to being 19 and 20 year old kids. Guys told me they saw [inmates who] looked like walking skeletons.
Q. I've interviewed a few holocaust survivors. And the thing about them, I've never met one who was bitter.
A. They all see themselves as being lucky. I met some when I started to do the book. … I went to Israel and I met Rabbi [Israel] Lau. That was very interesting because he told his story in [the] documentary that was done on the 761st liberators. … He was at Buchenwald, and Buchenwald was liberated by black troops. An engineering unit. They were building bridges and fixing roads for the allied forces, and they just happened to help liberate Buchenwald. To hear him describe it, these people were like angels.
Q. Was it emotionally hard to convert to Islam? Was it frightening to be an African-American sports figurehead in a racially charged nation?
A. My parents were concerned that I was joining the Black Muslims, and I told them that I wasn't. So that gave them a little bit of relief. I thought Muhammad Ali was a hero. But I didn't believe in the ideology of the Black Muslims. There was a guy that I knew that was a friend of my dad's. He was an orthodox Muslim in New York. He … told me what was happening and that Black Muslims were … racist just like all the racism that I abhorred, and so it helped straighten me out. I wanted to be Muslim. And in reading "The Autobiography of Malcolm X," I saw that he had figured it out and become a real Muslim.
Q. What is a real Muslim?
A. Someone who believes in the Supreme Being. Muslims worship the same G-d of Abraham. Prophet Mohammed was a descendent of Abraham. So we worship the same G-d, and we believe in the validity of all the prophets including Moses, Noah, David and Solomon. … We just include Mohammed. …It's all about the Golden Rule. Right? Hillel. Treat others as you yourself want to be treated. That's the essence of it. So if we can all agree on that, we can all get along, and it all will get sorted out on the Day of Judgment.
Q. But right now America …
A. [Some can be] so intent on dealing with the people who did the cowardly attack [on 9/11] that they want to lump all us Muslims together and then beat up on Muslims that had nothing to do with it and do not support Bin Laden in any way. Most Muslims in America are happy to be here because they can worship as they want. They can't do that back where they come from. …
Bin Laden's living in a cave someplace where we can't find him, and we can't bring anybody to justice so, America wants to make a convenient scapegoat.
Q. What are your thoughts on the proposed mosque near Ground Zero?
A. Yeah. And the thing that really got to me the most was when they would start talking about it, they reverted back to being 19 and 20 year old kids. Guys told me they saw [inmates who] looked like walking skeletons.
Q. What are your thoughts on the proposed mosque near Ground Zero?
A. I hope they build it because if … the pressure is successful in getting them not to build it, the Bin Laden people will be real happy about it. Because they want to see us divided. … Now more than ever we need people to stand up for what Islam is really about and not the fanatic's interpretation. Not what people with weird political agendas in the Middle East are trying to promote.
Q. [Changing the subject] I caught "Airplane" again the other day on TV.
Without losing a beat, Kareem does a stiff-arm fainting routine, re-enacting his role as co pilot Roger Murdock.

Q. That's all my questions.
A. Good.
Abdul-Jabbar is at kareemabduljabbar.com
Working – and reading – for Abdul-Jabbar
Deborah Morales is the first to admit she makes an unlikely aide to Kareem Abdul-Jabbar. "I'm from Massachusetts, and I'm Jewish, and I had no knowledge of sports or black history at all," Morales said. "When we first started talking it was hard. He'd be like, 'All right, read this article.' Or he'd give me a book and tell me to write down a list of questions after a chapter."
At his urging she read more than 500 books. But she considers more than her client and teacher Abdul-Jabbar. "I was suffering from a very bad illness that was making me not want to live," she said. "Kareem was my very good friend at this time."
Morales offers a sampling from Abdul-Jabbar's reading list: "The Prophet," by Kahlil Gibran; "The Book of Five Rings (Go Rin No Sho)," by 17th century samurai warrior Miyamoto Musashi; "Man's Search for Meaning," by Holocaust survivor and psychotherapist Viktor Frankl; "The Color of Water," by James McBride; and "The Autobiography of Malcolm X" (to "really know what it means to be Muslim").