Kareem Abdul-Jabbar's Bio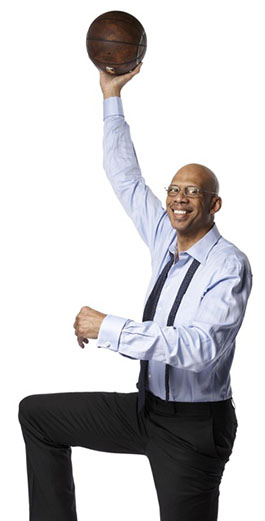 Basketball Legend
Kareem Abdul-Jabbar is a global icon that changed the game of professional basketball and went on to become a celebrated author, filmmaker, and ambassador of education. As one of the NBA's all time greatest players, the 7-foot-2 Hall of Fame center, famous for his indefensible skyhook, dominated the NBA for 20 years and is the NBA's All-Time Leading Scorer with 38,387 points. Prior to his stellar professional career, Kareem led the UCLA Bruins to three consecutive NCAA championships and is the only player in the 75-year history of the NCAA to be named the Most Valuable Player of the Tournament three consecutive years.
Media Star
Kareem has made a career of defying the odds. His 20 years in the NBA gives him one of the longest careers in professional sports. The fact that he played for two decades virtually injury-free also defies the statistics. Many professional athletes have written books after retiring, but only Kareem has written five New York Times best-sellers and only Kareem has written on topics as varied as World War II, the Harlem Renaissance, and the impact of African-American inventors. His co-authorship of the children's book, What Color Is My World, and the documentary, On the Shoulders of Giants, earned him two 2013 NAACP Image Awards. He has also continued the acting career he started with Airplane! and Game of Death (with his friend Bruce Lee) by taking comedic roles in New Girl and The Colbert Report.
Community Activist
In 2012, Kareem was appointed to be the US Cultural Ambassador by Secretary of State Hillary Rodham Clinton. That same year he and was named California's After School STEM (Science, Technology, Engineering & Mathematics) Ambassador. He is an inspirational leader who has become a passionate advocate for cancer research and a healthy living style after being diagnosed with Philadelphia chromosome-positive chronic myeloid leukemia (Ph + CML) in 2008.
Currently, Kareem is writing three more children's books for Hyperion/Disney, is a contributing columnist for Huffington Post and Esquire Magazine, he is starring in a new reality competition show for the ABC Television Network called Splash.