Health
Tuesday, May 11th, 2010
St. Louis Post-Dispatch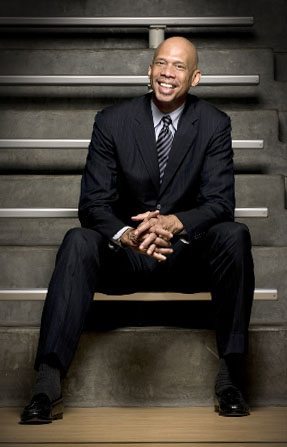 By Kathleen Nelson
Kareem Abdul-Jabbar has so much to say to so many people.
That statement would have been a shocker during his NBA career, when he built a reputation as a shy, reluctant interview. Since then, though, he has become a great communicator on multiple platforms.
First, he works closely with the Los Angeles Lakers as a special assistant, imparting to their big men the wisdom that comes with being a six-time MVP and the NBA's all-time leading scorer. But he has an even more important message to share here Saturday. Abdul-Jabbar is a cancer survivor, and he'll preach early detection and treatment at Illuminations 10, the annual fund-raiser for the Siteman Cancer Center at the Chase Park Plaza.
All the scoring slumps, losses, bad calls, injuries, upsets and disappointments of his 20-year NBA career pale in comparison to the shock Abdul-Jabbar received in December 2008, when he was initially diagnosed.
"When you hear the word 'leukemia,' you think of people dying," Abdul-Jabbar said by phone last week. He immediately called his son, Amir, studying to be a doctor. "He said, 'Look, you don't know what kind you have. You have to find out what you're dealing with and go from there.'"